Movement in art is one of the principles which makes an artwork interesting.
Drawing or painting is a static artwork composed of seven or lesser art elements, and it sometimes creates boredom as it is stationary. Artists create an impression of movement using principles of art to make it lively.
Movement is a principle used by artists that guide the viewer's eye to move from one part of the artwork. It can also create an illusion that the resultant painting, although stationary, depicts movement or sometimes looks like it is moving.
An artist can also create the subject or object that looks moving, like a person running or an apple falling, and it expresses that the picture has some movement in it.
The viewer's eye first looks at the focal point and then moves into a different area of the artwork based on the movement techniques used by the artist in the composition.
An artist creates the movement using shapes, colors, edges, and lines.
What is movement in the Principles of Art?
While Elements of Art are the tools used to construct an artwork, Principles of Art give a framework or guidance on using those tools.
Movement is one of the principles of art, and it gives life to artwork by drawing and pushing attention from one part of the painting to another.
When a person sees an artwork, his eyes usually roam over the painting. Artists consciously use various elements and principles to move the attention to multiple parts of the picture visually.
The 8 Principles of Arts are listed below:
Movement
An artist cannot create movement principles alone in isolation, and it works with other principles like rhythm and line, color, shapes, etc., to work cohesively.
What is Movement in Art?
An impression created in the artwork which depicts action or motion is called Movement in Art.
The artwork which we create is motionless and cannot move. But we can make it so that it gives the viewers the impression that it is moving.
An artist creates an impression of movement in his artwork by arranging the elements of art.
The arrangement of Brushstrokes in such a way can create movement in art.
What are some of the techniques to show movement in art?
How do Line show movement in art?
The line, even though it is a static image, can depict motion in an artwork.
A straight and vertical line creates an illusion that the line is holding to the ground. A horizontal line gives an impression of resting on the ground without any movement.
A slanting line gives an illusion that it is about to fall, creating an illusion of movement. A building that is drawing slanting will make an impression that it is falling.
Curvy lines show weakness.
Lines and movement go hand in hand. Abstract artists can create movement using lines by drawing them rapidly or slowly to form different shapes and patterns.
For example, Andrew Loomis' artwork depicts movement using parallel lines extending from one side of the canvas to the other.
What is Rhythm and Movement in art?
Rhythm in art is the regular placement of elements in artwork composition, and they are like beats in music like 1,0,1,0,1,0.
There are five types of Rhythm: Regular Rhythm, Alternating Rhythm, Flowing Rhythm, Progressive Rhythm, and Random Rhythm.
Except for the Random Rhythm, there is some predictable placement of elements in other types of Rhythm so the person viewing can predict the future, thereby guiding the eyes to follow through.
On the other hand, movement is how your eyes move on an artwork, and Rhythm guides the viewer's eye in moving from one part of the artwork to another.
In other words, we can say the movement is a resultant of Rhythm.
Movement is an action, and Rhythm is more like a pattern.
An artist can create Movements using lines, shapes, colors, edges as they are similar to Rhythm.
Both Movement and Rhythm are the principles of art.
What is illusion of movement in art?
Optical art, also called Op Art, is an art that exhibits optical illusion. One can use the Art elements to create the illusion or make our brains believe that the picture objects are moving.
Observing the center dot in the below picture creates an illusion that some line is moving on both sides, and it is a kind of optical illusion, even though there is no physical movement.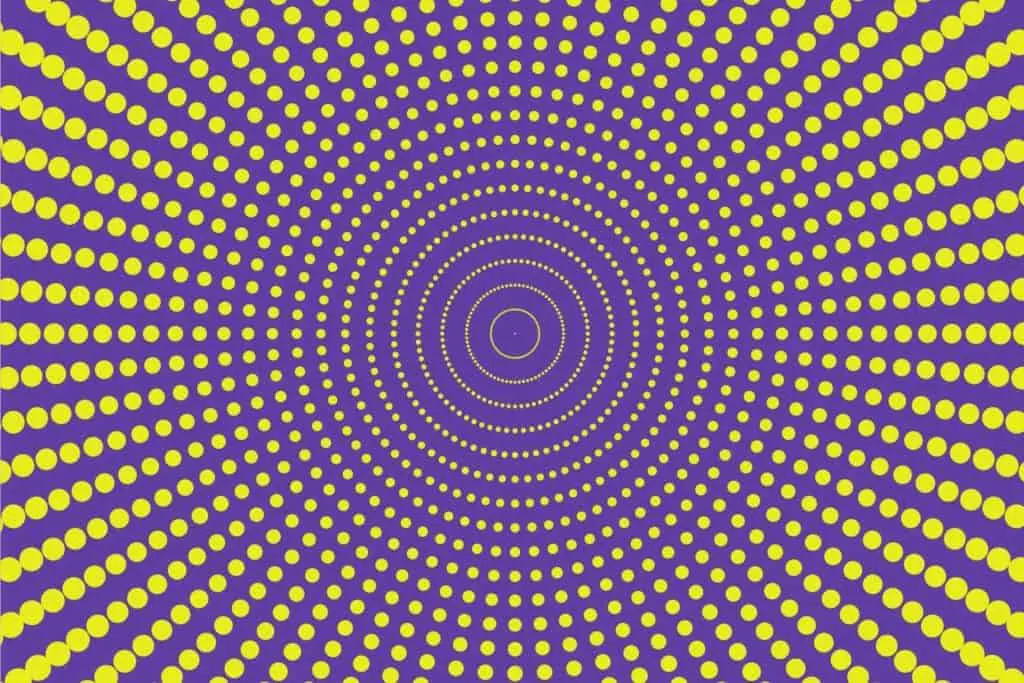 These are generally abstract arts and are drawings made on Geometric designs.
You can make this by creating concentric circles, parallel lines, or other geometric figures, or some method using colors.
When the viewer observes this kind of artwork, his eyes try to understand and justify it as right or wrong and seeking reason, and his eyes quickly keep moving around the art.
This result creates an illusion that the drawing is moving. 
Difference between Art movements and movements in Art?
Art movements and movements in art are two different concepts. Art movement refers to a style of art during a period, whereas movement in art refers to the principle of art used by an artist.
What is Art movement?
Art movement refers to a style of art created or followed by a group during a specific period. The movement will have certain logic, objects, or goals.
There are several art movements, and to list a few.
Cubism
Realism
Kinetic Art
Abstract
Modernism
Pop Art
Mannerism
Neoclassicism
Many times, these art movements have represented the reflection from society and sometimes had an impact on society.
What is Movement in Art?
On the other hand, movement in art is nowhere related to art movement. It denotes the methods adopted by the artist to present his art in such a way it gives a sense of movement either conceptually or visually.
Things don't move in paintings and works of art, but the concept of movement creates the impression that something is happening in the picture.
In a nutshell, movement in the art uses techniques and rules by an artist to make it appear as if their subject is acting, such as dancing, walking, swimming, or simply waving to someone else.
Also, the idea of movement in a piece of still art can be pretty tricky to grasp, but the movement also is used in abstract shapes to give movement in art.
For your painting to seem like your object is acting, other components of the picture, such as colors, Rhythm, and lines, must come together to make it work.
What is an example of movement in art?
Vincent Van Gogh: Starry Night
In this painting, you can see the brush strokes. The brush strokes move along with the cloud, moon, and star. There is also a cypress tree where the branches are curved. All these depict movements in the artwork.
Vincent van Gogh, Public domain, via Wikimedia Commons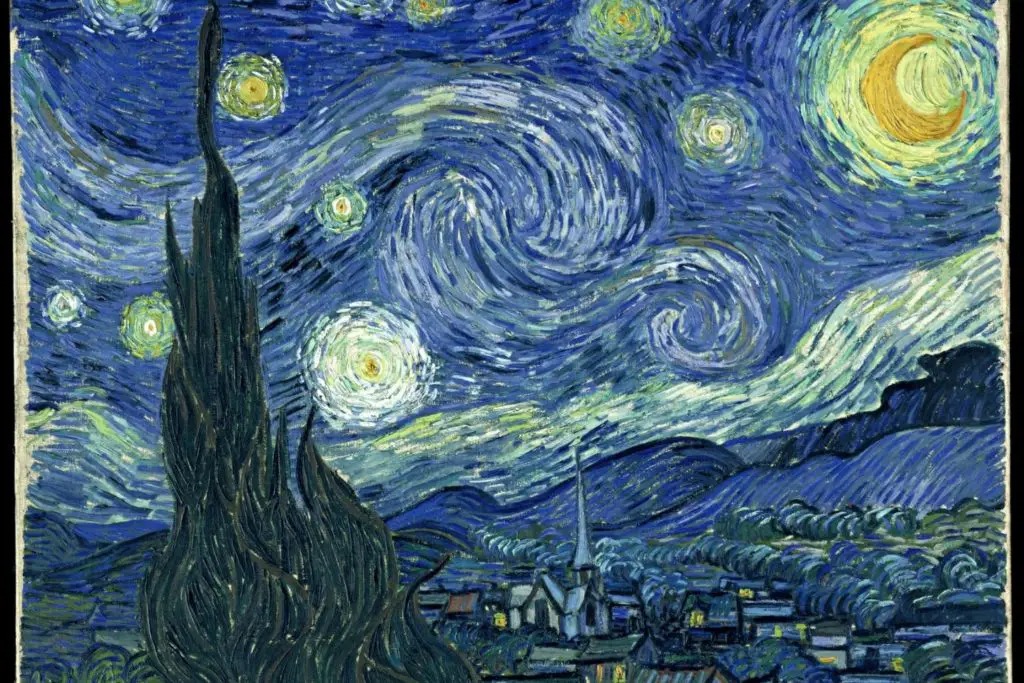 Movement is a subject that denotes life, energy, nature, etc., so it is an exciting concept to understand.
It is even more interesting to understand to depict the concept of moving through a stationary object like painting.
Include movement in your artwork next time when you do. It not only makes your mural exciting but also challenging.
Related Questions:
What gives an illusion of movement?
An illusion of movement is a movement that the eye perceives, but it isn't a movement.
For example, movement symbols or lines can give movement to artworks because artists use them to depict movement in their work.
However, even if they stop using these elements, there would still be moved because the viewer's eyes will continue moving across the painting.
Conclusion
Movement in art helps create a sense of action and energy. It also conveys the idea that time is passing, which the artist can use to portray moments such as an unfolding story or specific emotions like anticipation and movement towards something new.
Understanding how movement can affect your medium will help you create better artwork that appeals on various levels, including emotional connections and understanding the types of motion best suited to express what sort of artistry.
So if you want your artwork to look good and engage viewers, then it might be time for some action!
What do you think?  Have any favorite examples of movement in art? Let us know.