Unity in Art is a principle where the elements of art are used or placed to create a wholesomeness resulting in Unity in the artwork's composition.
A viewer can realize that an artwork has unity when the elements support each other and do not compete.  Unity in art can create Harmony, and all the elements jointly bring out the complete artwork or the concept in the painting in a cohesive manner.
Unity: A Principles of Art
As mentioned above, Unity is one of the principles of Art. The other principles of arts are as follows:
Harmony brings peacefulness to an artwork, whereas Unity brings cohesiveness to the painting.
No one can measure unity in a painting; an artist can only feel and create an impression through his elements.
Unity is a principle, a concept, unlike an object. You can look at a painting and see a lady, a house, or something and remember that, but you cannot remember the unity in the picture.  It is something the artist had put together for you and is received by you when you analyze the painting.
So, this takes us to the next question.
What are the three kinds of unity in Art?
The three kinds of Unity in art are
Compositional Unity
Conceptual Unity
Gestalt Unity
What is Compositional Unity, and how does it unify Art?
Compositional Unity is nothing but strategies used by the artist to bind the different elements of art in work in a unified manner, resulting in the best visual experience.
The artist strategizes his expertise in bringing unity between too much similarity and too much variety in using art elements and balancing his artwork to get Compositional Unity.
Many inexperienced artists do not know how to use elements of art cohesively, resulting in some parts of the artwork drawing more attention or distraction.  This is when we say that the compositional unity is missing.
Compositional Unity is easily visible and can be easily remembered.
What is Conceptual Unity in Art?
Conceptual Unity is a theory whereby the artist brings in Ideas or Ideas and binds them within his artwork.
Generally, at first look, the idea may not be organized or understandable. But the artist can communicate his concept through objects, images, shapes, and other forms and crystalize his concept, which he has seen, heard, read, or felt.
Conceptual unity for an artist comes through his age, experience, ambition, dreams, society, culture, country, religion, fantasies, or the period he was born.
Unlike Compositional Unity, conceptual unity is bound by ideas instead of art elements. Conceptual unity is sometimes invisible and needs to be understood or explained. 
What is Gestalt Unity in Art?
Gestalt means a configuration in German and elaborates how things are placed or put together to form a complete object.
Gestalt Unity is a theory on the perception that explains how the human brain recognizes patterns and groups them mentally to form a larger unit. The theory also advocates whole is greater than the sum of the individual parts and is also called the principle of grouping.
An excellent example of Gestalt Unity is the Olympic rings, five different colors representing five continents, three on the top and two at the bottom, binding each other.  The human brain binds it and sees it as an Olympic symbol.
How to create unity in art?
There are innumerable ways to create Unity in Art; it all depends on how an artist strategizes or styles it.
Unity is like a human body that has several individual parts, both visible and invisible. But we call it the human body.  Similarly, the artwork will have several features, which are physically visible, also called compositional, and invisible, like conceptual. Both of these together form Unity in an artwork.
Over several years artists like us have derived methods to create unity in composition, and they are as follows: –
Repetition
Continuation
Simplicity
Proximity
Unity created by Repetition in Art
When you repeat certain elements of art in a composition, it will create a sense of similarity. When elements like lines, textures, colors, value is repeated, it creates a feeling of unity.
Repetition of elements can also create Rhythm in art, and rhythm creates Unity in the artwork.  It works just like how a rhythm in music makes complete sense for the song.
It can group the repetition into some form of meaningful composition. The repetition doesn't need to happen several times. Instead, a limited two or three repetitions also is good enough to create Unity in the artwork.
Similar objects or components in artwork create consistency.
Unity created by Simplicity in Art
You must have known this "Less is more." Similarly, Simplicity creates Unity in an Artwork.
In other words, variety creates complexity, and simplicity creates Unity. You can achieve simplicity by limiting the variations like color, textures, lines, or other elements in your composition.
The result will be simpler, easier to understand, and indirectly creates Unity. Two contrasting elements of art can be unified by a single element, like color or texture, and can create Unity.
Unity created by Proximity in Art
The easiest way to create Unity in the artwork is to place the objects or elements too close to each other. Proximity to each other makes a group amongst similar elements.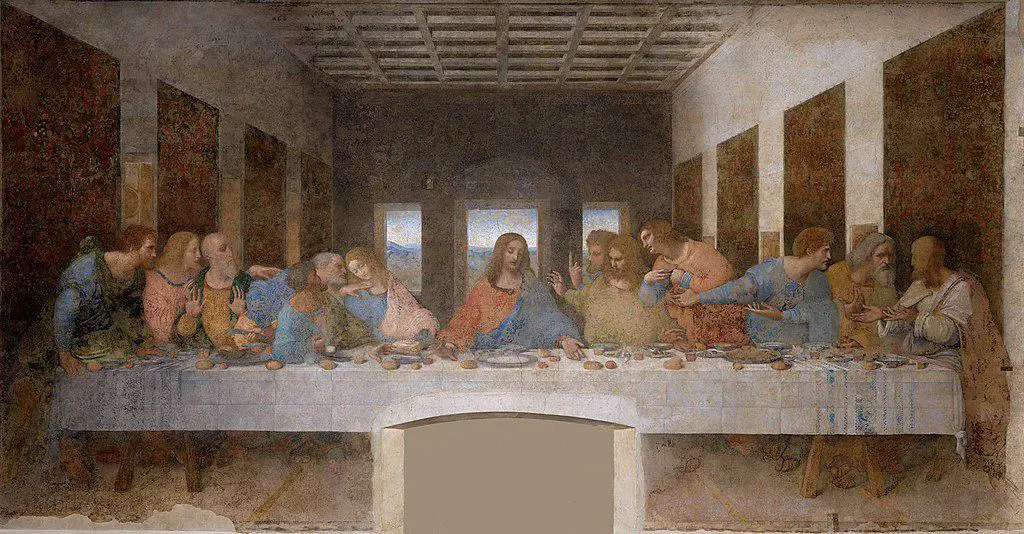 The above original painting, The Last Supper, is an example of proximity in art.
The artist's objective here is to create a wholesomeness for the artwork, which can create visual unity. The better way to create greater unity is to create repetition and proximity. The common thread of the elements can be colors, textures, lines, or maybe other objects.
An example is a computer, printer, keyboard, mouse, scanner, and some books all placed in proximity on a table can give a unity of a workstation in the image.  If they are kept in different corners of the frames, it will not create unity.
Unity created by Continuation in Art
It is sometimes surprising to understand how continuation can be related to Unity. Continuation means a carryforward of observation from one element to another: a line, curve, direction, or edge.
A person who looks at artwork does not see the work in random patches like here and there.  He sees the artwork, and something attracts him, and from there, he continues to see the lines or color and moves to the next element as these are connected, amazingly, the human mind will put all these together and sees it as one.
Continuation creates lesser impact in Unity compared to Repetition and Proximity.
What is the difference between Unity and Variety in Art?
The difference between Unity and Variety in Art is the intention with which the Artist uses them.
Variety is created due to the usage of different art elements in the work.  Unity is a concept that brings all these various art elements and gives a sense of harmony and wholesomeness to the artwork.
Variety is used to create interest in the subject or the painting as it eliminates monotony, and variety creates significant interest in the artwork. 
To create Variety, an Artist can use different colors, but to bring Unity, he can use the same or similar texture, which brings commonality.
Variety and Unity should not be seen as opposite poles but complement each other.
If there is only Variety and no Unity in an artwork, it may result primarily in Abstract artwork.
Principles of Unity are the essential principles of arts.  Even though the concept is straightforward, it is pretty challenging to accept, and importance is given only to individual items in artwork rather than unifying it.
Unity also creates Harmony in art. Next time you see an artwork, see it through the lens of unity.  
Related Post
Please find below a set of Related Posts which might be of interest on the Topic of Elements of Art:
Frequently Asked Questions
How do you achieve wholeness in an art composition?

Achieving wholeness in an art composition is all about creating a sense of balance and unity within the piece. This is done by using symmetrical or harmonious shapes and colors, ensuring that all the elements of the composition work together to create a cohesive whole.

What does unity look like in art?

A sense of unity often manifests in art as a harmonious arrangement of elements, balance, and completeness that suggests wholeness. In simple terms, it is the feeling that all the parts of a work are working together to create a unified effect. Great works of art can unify disparate elements into a coherent whole, resulting in a more profound aesthetic experience.

What does unity look like in art?

Unity looks like a sense of cohesion or oneness. Art can be achieved using elements similar in color, shape, size, or texture. When all elements in a work of art are unified, it creates a more harmonious and pleasing composition. Another way to create unity in art is by using a focal point.

How can you tell if a work of art has achieved unity?

You can tell if a work of art has achieved unity by looking for visual clues that suggest the artist has successfully brought together all the elements of the composition. If all elements of a work have been carefully chosen and arranged to achieve a specific purpose, unity will likely be achieved. In a painting, you might see harmonious colors and shapes that all work together to create a cohesive whole.

Can unity be achieved in a variety of mediums?

Unity can be achieved in various mediums by striving for oneness in all aspects. Through color, shape, line, or texture, unity can be successfully conveyed by creating a sense of cohesion and harmonization. Each component should work together to create a balanced and unified whole.