Rhythm is one of the principles of art which denotes movement by using repeated visual art elements to create a feeling of motion in the Artwork.
Unlike other principles, Rhythm is a principle of art to be felt and understood and is a bit complex to be explained.
In music, Rhythm is a combination of strong beats and weak beats, and it is no different in the world of art. Rhythm in Art refers to using repeated elements of art that make a mood or a flow.
Principles of Art Rhythm
As mentioned above, Rhythm is one of the principles of Art. The other principles of arts are as follows:
Rhythm
What is the definition of Rhythm in Art?
Rhythm is one of the art principles to create a movement or pattern, using one or more art elements like line, color, texture, space, shape, form, and value, and it guides the viewer's eye from one part of the artwork to another.
Not all artworks need to have Rhythm, but one with good Rhythm can be a good artwork.
Before we move into the next section of Rhythms, I will introduce you to a term frequently used in future posts: Motif.
What is Motif in Art?
A Motif is a recurring subject or idea in a piece of art. It can be as simple as a geometric shape or as complex as a story or theme. Many artists use motifs to add depth and cohesion to their work.
A Motif can also be an element, shape, color, and line that the artist repeats to create Rhythm. It could be a small motif or a large one.
The artist decides how often to repeat the motif and where to place it in the artwork to create the desired Rhythm.
Throughout the composition, a motif repeats a dominant element, subject, image, theme, or pattern in the Artwork.
How is Rhythm created in Art?
When we think of Rhythm, it is a repeated pattern of sound or movement. You can dance to create a Rhythm; you can play music or beat at regular intervals and create a Rhythm.
Art is a stationary work without any movement, and how can Rhythm be created in it?
An artist creates a sense of Rhythm using one or more elements of art by repeating patterns in the art space, just like a musician does. When we see art, our eyes move from one element to another in the art space, precisely like the beat of the music.
Why is Rhythm important in Art?
The most obvious reason is that it can help create a sense of movement and energy in a work of art.
Rhythm can also create a sense of unity or cohesion within a composition and draw attention to certain elements within the work.
In addition, rhythm can help to create a sense of tension or drama within a piece or to convey a particular mood or atmosphere.
Ultimately, rhythm is one of the many tools an artist has at their disposal to create a successful and influential work of art.
Art is all about feelings, and Rhythm is the only principle of art that has the potential to create an emotion by itself.
Unlike music or motion pictures, art is static. It is especially important to create a picture using a combination of elements to make a viewer appreciate the image and make them go through the entire piece from one place to another.
Principles of Art Rhythm – 5 different types of Rhythm in Art?
The 5 Types of Rhythms are: –
Regular Rhythm
Alternating Rhythm
Flowing Rhythm
Progressive Rhythm
Random Rhythm
Regular Rhythm
A Regular Rhythm in art is the repetition of the Motif in a Composition that is arranged evenly in a specific order and is easily identifiable.
An example of regular Rhythm in the physical world is a tick-tock of a clock that keeps repeating. Creating a Regular Rhythm in art is simple, and you can create horizontal lines at equal intervals with the same color, intensity, and texture, and it is a Regular Rhythm.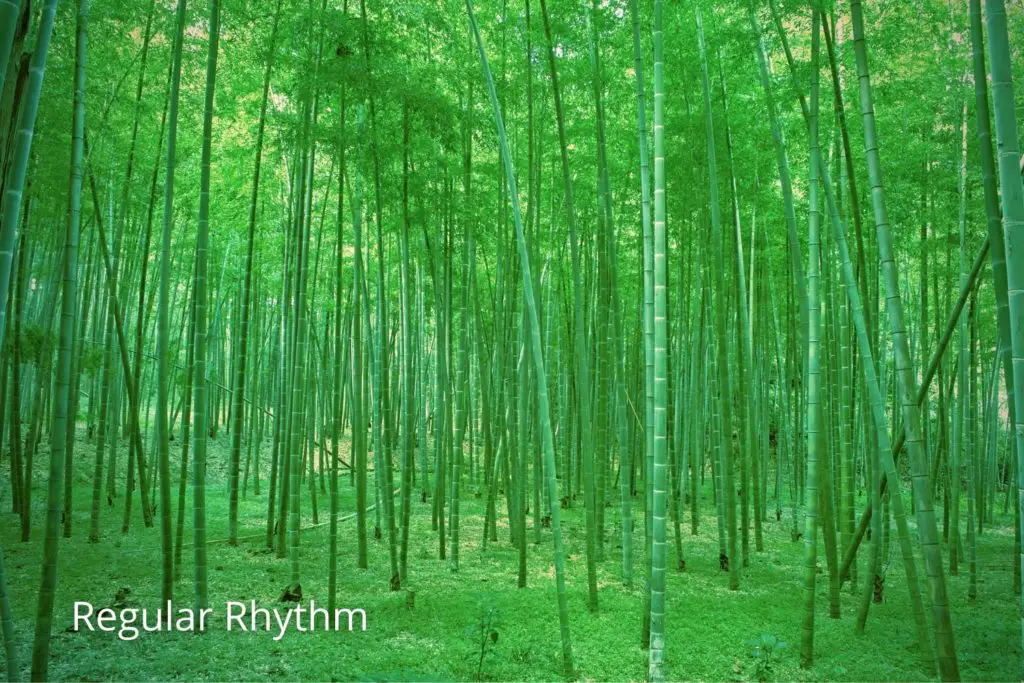 Advantages of Regular Rhythm
It is plain, simple, and easy to create
The rhythm is predictable and consistent and gives a calmness
Disadvantages of Regular Rhythm
It may not be interesting if it is overdone
It may be monotonous
If there is an exception to the Regular Rhythm, it is easily noticeable to the viewer.
Think about some other regular rhythm in the physical world.  Also, check for old paintings and try to identify some Regular Rhythms in them.
Alternating Rhythm
Using more than one Motif or element repeatedly in a Composition creates Alternating Rhythm.
There is no difference between a Regular Rhythm and Alternating Rhythm, and the only difference being in Alternating Rhythm, more than one variable is added to create a wider variety.
An artist can use alternating colors, shapes, and forms in repetition to create Alternating Rhythm.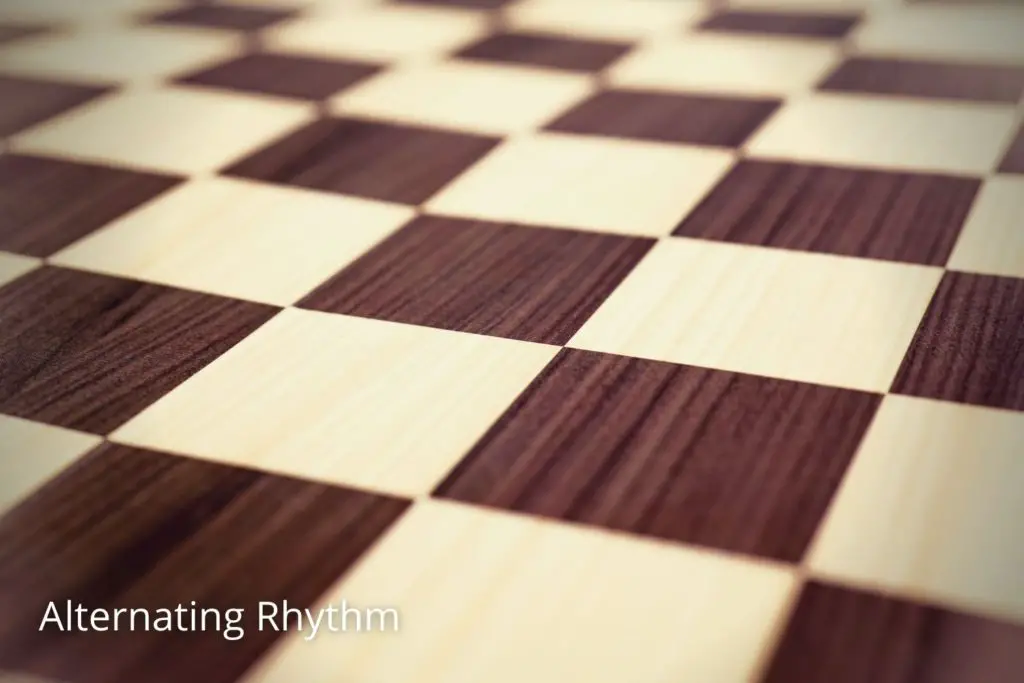 Advantages of an Alternating Rhythm
Alternating Rhythm reduces monotony by creating multiple motifs in the work.
It creates curiosity in the eyes of the viewer to study the intricacy of the artwork.
Alternating Rhythm gives variety to the artwork, making the painting attractive.
Disadvantages of Alternating Rhythm
Even though it creates variety, it may sometimes look cluttered.
Unlike other Rhythm, their flow or movements is less or staggered due to more than one motif.
If it is hand-drawn and not graphical, an artist needs to spend more time and give more attention to creating an Alternating Rhythm.
See if you can identify alternating Rhythm in the real world, or next time you see an artwork, identify the Rhythm in it.
Flowing Rhythm
What is the definition of Flowing Rhythm in Art?
Flowing Rhythm in art is where the art elements are in the form of curves, circles, or undulating and are smooth in art movement and are repetitions.
It directs the viewer's eye like a wave, up and down or left and right, sometimes in a circle. Mostly flowing rhythms are found in nature and organic shape and form.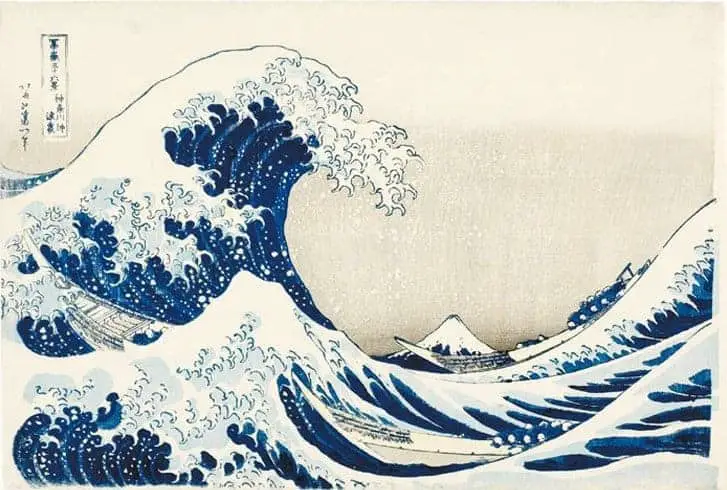 What are some examples of Flowing Rhythm?
Edward Munch, 1983 – "The Scream"
The Artist depicts the panic and trauma with a flowing rhythm. You can see the bright orange and blue water flowing. It is currently in the National Gallery of Norway.
Katsushika Hokusai, 1829-32, The Great Wave off Kanagawa
"The Great Wave off Kanagawa" is a print series and not a painting, and here it depicts an enormous wave scaring off three boats, and people are worried. The Artist has drawn using a flowing Rhythm in waves, boats, and mountains with large and small flows or curves. You can see Mount Fuji in the background.
Advantages of a Flowing Rhythm
The flowing Rhythm is pleasing and smooth for the viewer's eye, even if the colors are vibrant.
It gives an artwork a precise movement and makes the painting interesting
Progressive Rhythm Art
What is the definition of Progressive Rhythm in Art?
If the artist has used repetition of shape, form, or color changes gradually or progressively in an artwork, it is called Progressive Rhythm in art.
You can do this Rhythm in art by changing one character of a motif as it repeats and shows progress.
It moves the viewer's eye in the direction of the progress the elements make either in shape, form, or color. Most of the progressive rhythms are manmade.
An example of Progressive Rhythm is motion pictures, where the frames in films move gradually or progressively.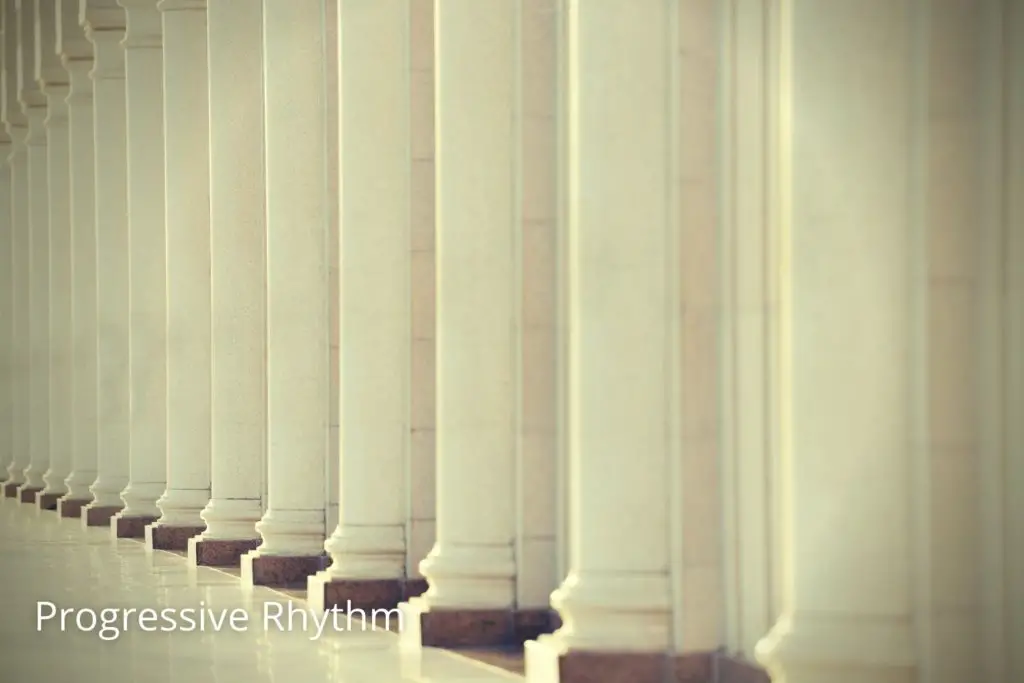 What are some examples of Progressive Rhythm?
Grand Wood, 1931 – Fall Plowing
"Fall Plowing" is an Oil painting portraying the field plowed belonging to the Artist's hometown. Though the Artist's objective was to show the importance of technologies in farming, you can see how Progressive Rhythm is applied in this painting.
The painting shows how the cultivated grasses are bundled and arranged in rows and columns, thus capturing the Progressive Rhythm.  
Vincent Van Gogh, 1890 – Undergrowth with Two Figures
"Undergrowth with Two Figures" is an Oil on Canvas painting reflecting landscape and trees perpendicularly as columns. The tree's trunk is rhythmic, and the width of the tree trunk depreciates progressively.
The painting covers trees, meadows, flowers, and leaves filled with different colors and is an excellent example of progressive Rhythm.
What are the benefits of Progressive Rhythm?
The progress gives a sense of a natural or secure feel.
The progressive rhythm gives a sense of prediction with a progressive variable attached to it.
Though Rhythm creates monotony, progressive Rhythm reduces it.
What are the disadvantages of Progressive Rhythm?
If there is any incorrect placement of elements, it disturbs the progressive rhythm.
Random Rhythm
What does Random Rhythm in Art mean?
Random Rhythm in art is when the art elements repeat without any specific condition, order, or arrangement.
An example of Random Rhythm is the splashing of colors, and the impression resulting from the Splash is random.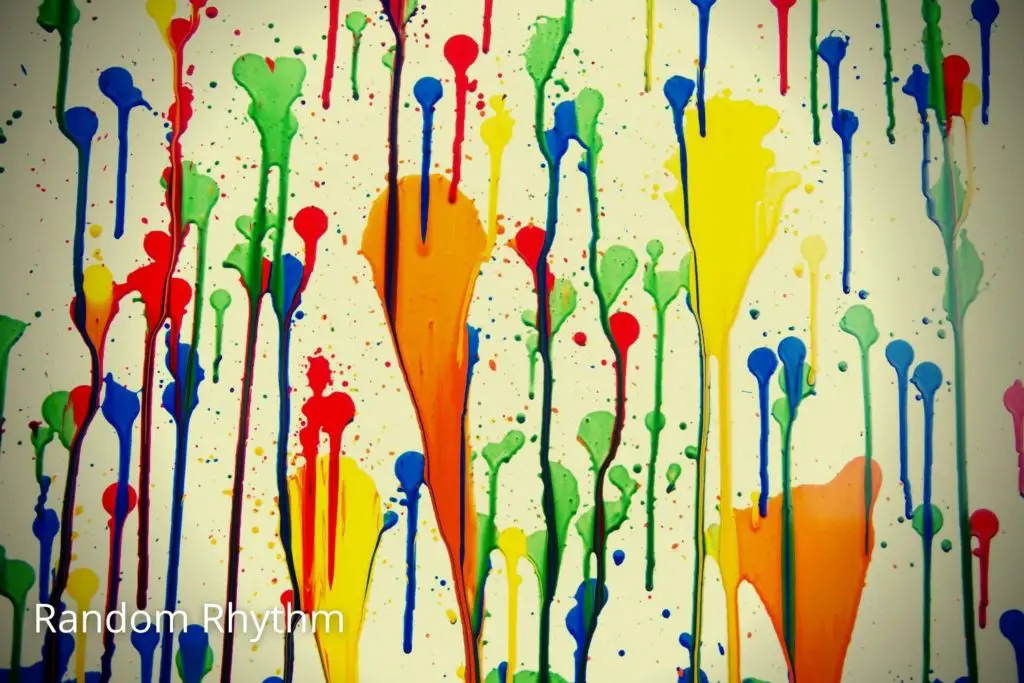 What are some examples of Random Rhythm?
Grant Wood, 1931 – Young Corn
He is an American painter best known for painting American rural paintings. Young Corn is very serene, creating a sense of calmness in the viewer.
There is a mixture of Random Rhythm and progressive Rhythm in this painting. The trees, a bunch of leaves, and meadows are some examples of Random Rhythm.
John Singer Sargent, 1880 – Orchestra Rehearsal of Jules Etienne Bastard
John Singer was an American Portrait Painter and best with Oil and Watercolor.
Sargent went to a free rehearsal of a classical concert by Jules Etienne, famous in the late nineteenth century. And this painting is the result. It is an Oil painting on canvas created in 1879.
Well-captured perspective and used thin brush strokes to capture the rich look. The elements in the painting are the musicians, instruments, gallery, and an excellent example of Random Rhythm.  
What are the Benefits of Random Rhythm?
It gives the artist freedom of expression but without any order or arrangement.
It also gives the viewer unpredictable movement around the artwork.
The artwork created using Random Rhythm will be pleasing as it is rhythmic and more to study as the Rhythms are Random.
What are the disadvantages of Random Rhythm?
Random Rhythm is the most challenging in creating a composition, and it is difficult to explain how to build a random rhythm.
Conclusion:
Any element like color, line, shape, or form creates Rhythm. The intensity of the Rhythm can be at various levels, from subtle to high, making it stand out.
Next time you see an artwork, try to find the Rhythm. What do you first see in a painting?
How do the elements guide you to move from one part to another?  Also, try to identify the type of rhythm the Artist has used.
A clean visual rhythm will guide you from one place of art to another, and its predictability leads to anticipation. Different Rhythm adds variety to the Artwork.
Every Artwork has its Rhythm, some will be visible, and it is often how a viewer interprets it.
Related Post
Please find below a set of Related Posts which might be of interest on the Topic of Elements of Art:
Frequently Asked Questions
How do you identify rhythm in art?

Rhythm in the art can be identified by its repeating patterns. These patterns can be found in the artwork's shapes, colors, lines, and textures. Rhythm is often used to create a sense of movement within an artwork. It can also be used to create a feeling of stability or tension.

Why do we need rhythm in art?

Rhythm is what gives art a sense of movement and life. It helps to create a sense of continuity and cohesion in a work of art and can be used to emphasize certain elements or ideas while obscuring others. In short, a rhythm is an essential tool for artists because it helps them to communicate their ideas more effectively.

How do you analyze rhythm in art?

You analyze rhythm in art by studying how the artist uses line, shape, space, value, and color to create a sense of movement. You can also analyze rhythm by looking at the shapes and lines in artwork and see if they form any patterns. Another way to analyze rhythm is to look at how the artist uses colors and values to create contrast or harmony.

How does rhythm create emotion in the artwork?

There are many ways rhythm can create emotion in the artwork. One way is by using contrasting rhythms. Another way rhythm can create emotion is to control the viewer's eye. You can use rhythmic elements to guide the viewer's eye around the painting or to keep them focused on specific areas. Lastly, rhythm can also be used to evoke particular emotions.

How many types of rhythm are there in art?

There are an infinite number of types of rhythm in art because rhythm is relative. There are countless ways to create rhythms in art, and no two artists will ever approach it the same way. The key is to be consistent and deliberate in using those elements.