Movement in art is one of the most important principles that an artist can master. By understanding and utilizing this principle, artists can create more lifelike and expressive paintings.
In general, movement is the path of an object through space or an act of changing its position. In art, it is often used to suggest emotion or to create a sense of action.
Movement can be implied or actual and can be created using various techniques. In many cases, artists use it to suggest feelings of energy, excitement, or even violence.
This article will explore what movement is and how artists use it to create beautiful pieces of artwork. We will also look at some examples to see them for ourselves.
What is Movement in Art?
Movement in art is the principle of making images that appear in motion. It can also refer to the path the eye takes through the artwork, often to create a sense of action or to emphasize a particular area, otherwise called a focal point.
An artist uses elements of art like line, color, shape, form, and space to create a sense of action or to suggest the path the eye should follow across the surface of the work. He also uses contrasting colors, patterns, and parallel lines to direct the movement inside a painting.
For centuries, artists have used this principle to create visually and physically arresting art. While the feeling of movement can be exhilarating in art, it can also be unsettling, evoking a sense of unease or even dread.
Regardless of its effect, movement is an essential element of many art forms, and its power lies in its ability to transform the static image into something dynamic and alive.
Movement in Art Definition
Movement in art is defined as the dynamic quality of a work that directs the viewer's eye throughout the composition or implies the visual representation of motion in an artwork.
The principle of movement can also create the illusion of motion in a static work through different mediums and techniques.
In visual arts, movement designates the visible action or suggestion of action within the picture surface. This motion often leads the eye of the beholder throughout the artwork. It can also create the illusion of motion in a still image.
What is Movement in the Principles of Art?
Movement is one of the Principles of Art, referring to the path the eye is drawn to move through a piece. It can be created using various elements such as line, shape, color, value, and texture. It can also be created using different mediums, such as painting, sculpture, or photography.
Movement creates a feeling of visual movement or physical movement. In the 19th century, the 
In the 20th century, an abstract expressionism art form used geometric shapes and patterns to create a sense of motion. There are many ways to create movement in art, and it is up to the artist to use it in their work.
The other principles of art are:
An artist cannot create movement principles alone in isolation; it works cohesively with other principles like rhythm and line, color, shapes, etc., to create an artwork.
How do Artist Show Movement in a Painting?
Movement in a painting is created in many ways. Some artists use more than one of these techniques to create motion in their paintings. Others may only use one or two. It all depends on the artist's style and what they are trying to achieve in their work.
Some of the ways are:
Use of Contrasting Colors
An effective way to create action is by using contrasting colors in art. By juxtaposing light and dark colors, or warm and cool colors, you can develop a sense of motion that can be visually striking and emotionally evocative.
Additionally, by playing with the placement of color, you can create an optical illusion that adds another layer of depth and interest to the paintings.
Use of Shapes and Patterns
Artists often use shapes and patterns to show movement in a painting. Creating dynamic lines and incorporating various styles can create illusory effects that convey a sense of rhythm and movement.
By using angular shapes, broken colors, and expressive lines, artists can create abstract compositions that convey a sense of action and energy. In addition, by exploring different artistic practices and utilizing various art styles, artists can create unique abstract paintings representing a sense of movement in this modern society.
Use of Parallel Lines
Parallel lines are two or more lines that are the same distance apart at all points. They are used to create a sense of movement because our eyes tend to follow the lines.
That is especially effective if the lines are at different angles or broken into smaller segments. Additionally, Parallel lines can create a sense of depth and volume by making objects appear closer or farther away.
They can also create a sense of order and balance when used in an abstract composition. Finally, parallel lines can create illusory effects such as movement, optical illusions, and perceptual effects.
These are just a few ways an artist might show motion in a painting.
What are the Different Types of Movement in Art?
There are mainly two types of movement: actual and implied.
Actual Movement in Art
The actual movement is defined as the artist's intentional use of line, shape, space, color, value, form, and texture to create a sense of motion in the viewer's mind. This element can be used to create both literal and abstract.
In a literal sense, the actual movement is created using lines to create the illusion of movement, such as a zigzag or spiral.
In an abstract sense, actual movement can be created using contrasting colors or shapes to create a sense of dynamism. By understanding and utilizing it, artists can create incredibly powerful and moving works of art.
Implied Movement in Art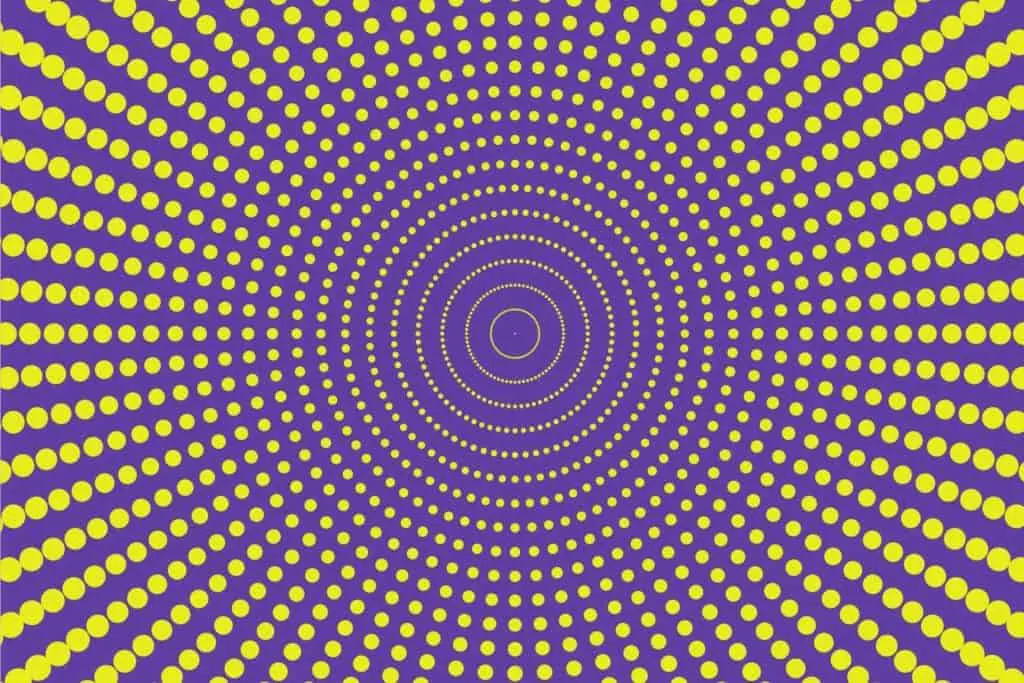 Implied Movement in Art refers to suggesting action or motion in work. For example, an artist may use a series of curved lines to suggest the movement of a dancer, or they may use contrasting colors to create the illusion of motion.
In addition, implied movement is also created through perspective and other spatial techniques. By understanding how to create it in their work, artists can add layers of meaning and intrigue to their paintings, sculptures, and other works of art.
By understanding the difference between these two, artists can use them greatly in their work.
What is the Importance of Movement in Art?
Movement creates a sense of energy and excitement or conveys a sense of peace and stillness. It can add visual interest to a painting or sculpture and can help to create an illusion of depth or space in and around the subject matter.
Adds Depth and Interest to an Artwork
When used skillfully, movement can add depth and interest to an artwork. It can lead the viewer's eye through the piece, highlighting certain elements and drawing attention to the overall composition.
Movement can also create a sense of dynamism, making the artwork more visually engaging. Sometimes, it can even convey a sense of motion or energy. By adding it to an artwork, the artist can create a more compelling and interesting piece.
Create a Sense of Emotion or Feeling
Movement is one of the key elements that artists use to create a sense of emotion or feeling in their work. By playing with the direction and pace of lines or using light and shadow to create a sense of motion, artists can guide viewers through an emotional journey.
A painting or sculpture can evoke a feeling of happiness, sadness, anger, or any other emotion, just through the use of color, line, and form. The painting also invites viewers to linger in calm or joy.
Sense of Physical Movement
Another important aspect of art is creating a sense of physical movement. When you look at a good painting, you see the image the artist has created and feel like you are moving through the scene. This separates art from other forms of expression, like writing or music.
This physicality is what makes art so special. It is an experience that can be both visual and tactile.
And this sense of physical movement makes art an effective tool for conveying emotion. Art transports us to another place and time, whether the energy of a dance performance or the stillness of a portrait.
Creates a Focal Point in an Artwork
Movement is often used to create a focal point in art. By leading the viewer's eye through the piece, the artist can direct their attention to certain elements. This is often done using lines or color contrasts to create a sense of movement.
By doing this, the artist can control where the viewer looks and what they see first. It is a powerful tool that creates a sense of harmony or tension in an artwork. Similarly, by using lines to connect different elements, the artist can create a sense of flow that carries the viewer through the piece.
Aesthetically Pleasing and can be Visually Appealing
Movement is often used in art because it is pleasing to the eye. Movement can give an artwork a sense of vibrancy and life when used skillfully. 
In addition, to being visually appealing, it can convey a message or tell a story. For example, in a painting that depicts a busy street scene, the artist may use motion to convey the bustle and energy of the city. The lack of motion in a more tranquil scene, such as a landscape, may convey a sense of peace and stillness. Ultimately, movement is tool artists use to add interest and depth to their work.
It is an essential element that can help to create a sense of emotion or feeling. And, just as importantly, it can also invite viewers to linger in a moment of calm or joy.
What are the Examples of Movement in Art?
There are many examples of movement in painting, but some of the most notable examples are found in the works of painters like Vincent van Gogh, Pablo Picasso, and Jackson Pollock.
Starry Night
In "Starry Night," van Gogh used sweeping brushstrokes to create a sense of motion. The result is an image that appears in constant movement, even though it is a static painting. By using this technique, van Gogh could convey the feeling of a starry night sky dynamically and serenely. This combination of opposing forces makes "Starry Night" a captivating work of art. In addition to its visual appeal, "Starry Night" also has a calming effect. The slow, deliberate brushstrokes create a sense of peace and tranquility. This is likely one of the reasons why the painting is so famous. It provides viewers with a respite from the hustle and bustle of everyday life. "Starry Night" shows how art creates visual and emotional experiences.
Drip Paintings 
Jackson Pollock's "drip paintings" are a great example of how art uses movement. Pollock was known for his bold, dramatic strokes, and his paintings often appeared in motion. When you look at a Pollock painting, it's easy to see how the artist was inspired by the energy and action of the world around him. Pollock's paintings are a great example of how art expresses the vibrancy of life.
While van Gogh's painting is calm and peaceful, Pollock's drips are energetic and wild. The effect is similar to van Gogh's "Starry Night," but the feeling is entirely different. This contrast illustrates that movement in art conveys a wide range of emotions and ideas.
Number 1A, 1948
Lastly, Jackson Pollock's "Number 1A, 1948" is an excellent example of how the artist can imply movement through color and line. In this painting, Pollock used a drip technique to great effect, creating a sense of action and movement. The vibrant colors and dynamic lines create energy and movement, giving the viewer the impression of being caught up during the action. This painting is a great example of how art creates a sense of motion and tension, making it an important work in the history of Abstract Expressionism.
Rhythm vs. Movement
In art, "rhythm" and "movement" are often used interchangeably. However, there is a subtle but important difference between the two concepts.
Rhythm refers to the repetition of elements within a work of art, while movement refers to the overall flow or sense of motion. In other words, rhythm is a specific component of movement.
For example, in a painting with a strong vertical rhythm, the eye is drawn up and down the canvas, creating a feeling of motion. The eye moves from side to side in work with strong horizontal rhythms.
By contrast, work with little or no obvious rhythm may still have a sense of motion due to the placement of elements within the composition or the use of color and light.
Thus, rhythm is a specific element of movement, but it is not the only factor contributing to the overall feeling of motion in a work of art.
Conclusion
Movement in art is essential because it creates a sense of dynamism and life in a painting. By understanding what it is and how artists use it, you can start adding more life to your artwork.
There are many different types of movement that you can explore, so experiment with as many as you can and see which ones work best for you.
Thanks for following along on our exploration of the principles of art.
Please find below a set of Related Posts which might be of interest on the Topic of Elements of Art:
Frequently Asked Questions
Can Movement be Created Through Irregular Rhythm?

Irregular rhythm in the art can create a sense of movement by breaking the traditional symmetry and pattern rules, creating a dynamic visual experience. This movement can add tension and interest to a piece, drawing the viewer in and encouraging them to engage with the artwork uniquely.

What is Movement in a Painting Called?

Movement in a painting is the artistry of creating a sense of dynamism, athleticism, or energy in an artwork. Artistic motion can be achieved effortlessly by using curved lines, shapes, and other elements to capture a feeling of flow. Using bold shades or judicious lighting seamlessly constructs movement dynamics while avoiding actual physical alterations within the painting. When these techniques are applied correctly, there's no limit to how you can mysteriously bring life into an otherwise static piece.

How can I Make my Artwork More Dynamic?

To create a more dynamic composition for your artwork, attempt contrasting elements such as shapes, textures, and colors. Additionally, explore various compositions and viewpoints to offer visual movement within the piece. Incorporating motion in thematic lines or gestures can make your work stand out from the rest. Balance also plays an essential role, ensuring that all components interact harmoniously for a cohesive finished look.

What is Movement as a Principle of Design?

Movement as a design principle implies that a design should be dynamic, indicating movement. This movement helps guide the viewer's eyes through the piece with an orderly sequence or structure that is easy to follow. Animations, transitions, lines, and shapes can all be used to bring motion into a design. Adding life-like dynamics will make designs look aesthetically pleasing and appealing.

What Causes Movement in Art?

Movement in art is typically created through various artistic elements and principles such as line, shape, texture, color, etc. By adequately arranging visual elements, one can craft the illusion of motion. For instance, a painting with bright and quickly moving shapes or colors may give off an air of energy and speed. Furthermore, implied movement is also achievable through depicting motion lines or blurring figures to create the feeling of movement.

What is a Movement Pattern in Art?

A movement pattern in art is a combination of different movement ideas, a rhythmic series of motions, or an arrangement of bodies and objects used to create a visual effect. Movement patterns can be a powerful communication tool, evoking emotion or emphasizing specific elements in creative works. Whether it's a subtle shift in speed or positioning, repetition of an idea over time, or something more complex, these movement patterns serve to enliven the work and create an impactful experience for viewers.