You're an artist. You've always loved making things with your hands, and you're pretty good at it, too. So you decide to go into business for yourself and start selling your art. It seems like a great idea, but you have no idea how to make a living as a visual artist. How do you find clients? How do you price your work? And how do you make sure you're getting paid what you deserve?
Fortunately, you can do a few things to increase your chances of success as a freelancer. Below are 13 tips for making a living as an artist.
Sell Your Original Artwork Online
There's never a better time to sell your original artwork online. With a global marketplace at your fingertips, you can reach buyers worldwide with a button.
Whether you're an upcoming artist or a seasoned professional, selling your work online offers many advantages. You'll have complete control over your prices and inventory, and you can sell directly to buyers without going through an intermediary.
Plus, marketing your artwork online is relatively inexpensive and easy to do. By creating a strong online presence, you can reach a wider audience than you ever could offline.
So if you're ready to take your art career to the next level, selling your work online is the way to go.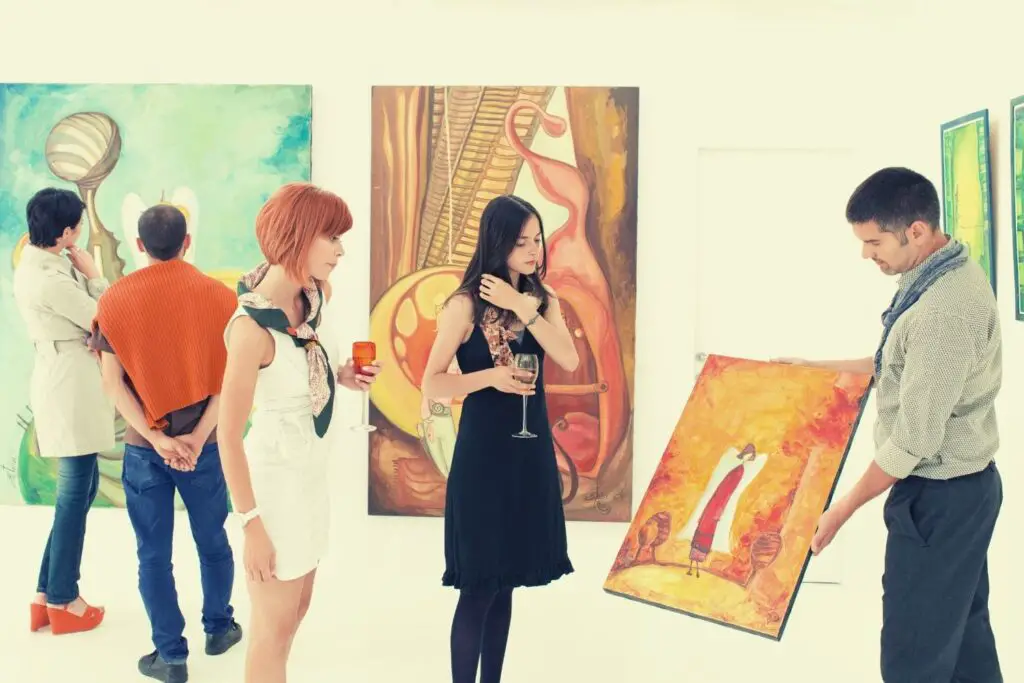 Sell Your Art Prints Online
If you're not ready to sell your original piece just yet, selling art prints is a great way to get started.
Art prints are reproductions of your original work sold at a lower price. This makes them more accessible to a broader audience, and it's a great way to generate sources of income from your art without breaking the bank.
To sell your art prints online, you'll need to find a reputable printing company. Once you have your prints, you can list them for sale on your website or a third-party marketplace like Etsy.
When setting your prices, be sure to factor in the cost of materials and shipping. You will have to decide whether you want to sell your prints as open editions or limited editions. Open edition prints can be sold unlimited times, while limited edition prints are capped at a certain number.
Either way, selling art prints is a great way to earn a living as an artist.
Sell Your Art on Consignment
If you're not ready to sell your artwork outright, selling on consignment is excellent. When you sell on consignment, you'll list your artwork with a gallery or dealer, who will then find buyers for your work.
The benefit of the consignment is that it allows you to reach a wider audience for your work, and it provides a steady stream of income. Consignment is also a way to get your work into galleries and other venues that might otherwise be difficult to access. 
Ensure you understand how much commission the venue will take, how long they will keep your work on display, and what rights you have to your work before you agree to sell on consignment.
But if you're patient and are willing to let someone else handle the sales process, selling on consignment can be a great way to get started in the art world.
Teach Art Classes at Schools and Community Centers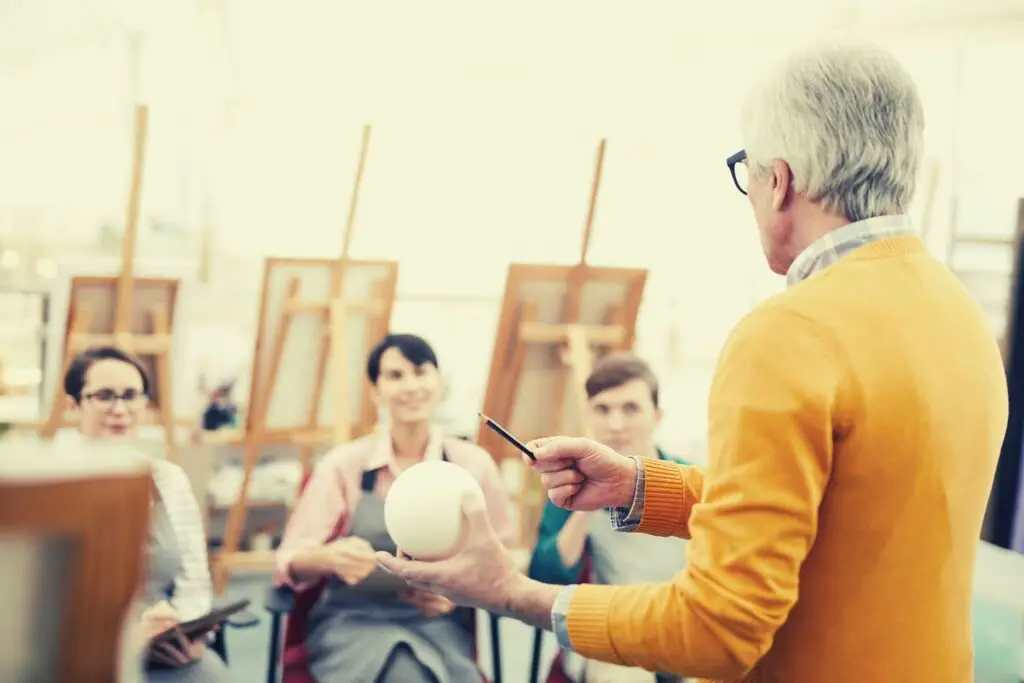 Teaching art classes is a great option if you look for a more hands-on way to earn a living as an artist.
Art classes are a great way to share your knowledge and passion for art with others. And since most classes are small, you'll have the opportunity to give each student individualized attention.
Plus, teaching classes is a great way to supplement your income if you're not selling as much artwork as you'd like.
Check out your local community center or art school to see if they're interested in hiring you as a teacher. You can also list your classes online on sites like Skillshare or Udemy.
Take Private Tutions
Private art classes can be a great way to make some extra money.
If you have a passion for art and teaching, this could be the perfect gig.
You can set your hours and rates and tailor the class to each student's individual needs.
There are a few things to keep in mind when setting up your business.
First, make sure you have a well-equipped studio space where students can feel comfortable working.
Second, create a detailed curriculum that covers all the basics of artmaking.
And finally, market your business to potential students through social media and word-of-mouth.
You can soon be making money doing something you love with a bit of effort.
Rent Your Artwork to Offices or Restaurants
If you're not ready to sell your artwork outright, another option is to rent it out. This is a great way to generate income from your art while still maintaining ownership of your work.
Offices and restaurants often need an artwork to liven up their spaces, and by renting out your pieces, you can earn a steady income.
The key to success is finding businesses that are a good fit for your art style. For example, if you create abstract pieces, you might approach companies in the tech industry, as they tend to be open to more modern techniques.
Once you've found a few potential clients, reach out and offer to show them your portfolio. You can soon start generating income from your art pieces by renting them out to businesses with a bit of effort.
There are different ways you can go about renting your art pieces. You can list it on a site like Artfully Walls, which connects artists with businesses looking to rent artwork.
Or you can reach out to local businesses and restaurants directly to see if they're interested in renting your work.
Either way, renting your artwork is a great way to make money while still keeping your art in the hands of the public.
Create Your Own Art Blog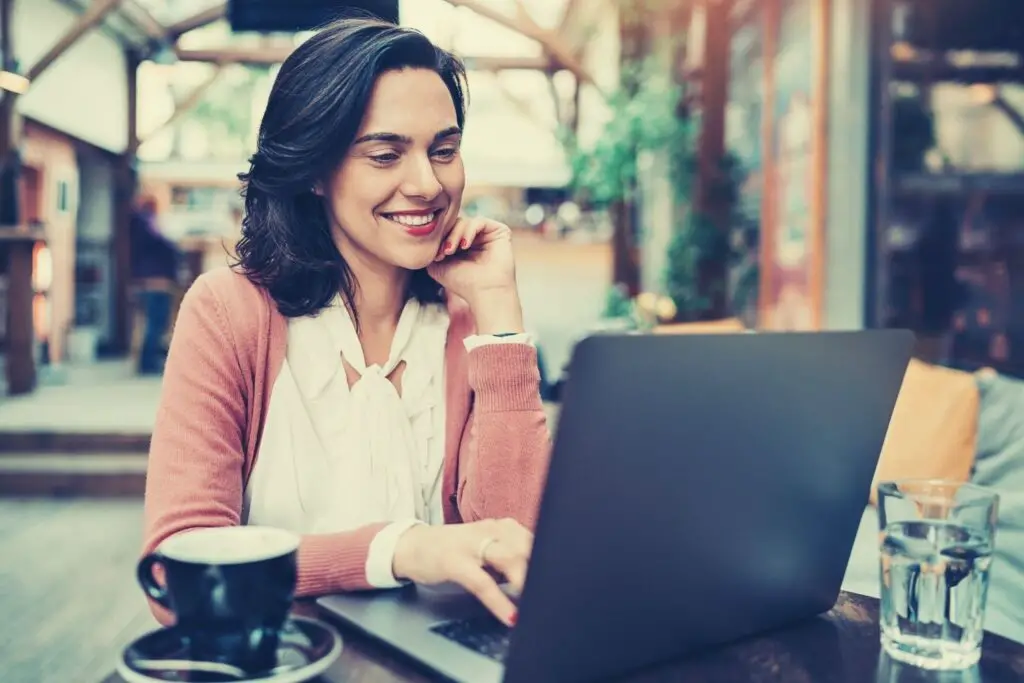 If you have a talent for any visual art form, you can easily create an art blog and start sharing your work with the world.
This is a great way to get your name out there, but it can also be a lucrative source of income.
There are always significant ways to make money on an art blog, such as selling advertising space, promoting products, or even selling your artwork.
You can quickly turn your art blog into a profitable business with effort.
WordPress is an excellent software to have your art blog created. Once you have your blog, you need to have quality content and collect email addresses.
If you have some regular readers, you can do the following to make money from your blog.
Selling Advertisement space
Affiliate Marketing
Online Courses
Anyone with passion and technical knowledge can start an art blog and make money.
Sell Your Art at Local Events
Another great way to sell your artwork is by participating in local events like art fairs, art festivals, and craft fairs.
These events are often heavily promoted in the community, so this can be a great way to get your work in front of a new audience and make extra money.
But before you start setting up your booth, you should keep a few things in mind.
First, make sure you choose a suitable event. Look for events that are likely to attract people interested in your work.
Second, be prepared to promote your work. Have business cards and flyers on hand, and be ready to talk about your art with potential customers.
Finally, price your work realistically. Keep in mind the costs of materials and time and the venue's commission when setting your prices.
If you follow these tips, you can quickly sell your art pieces at local events and maximize your chances of making a sale.
License your artwork
Many artists find that licensing their artwork is a great way to make money. When you license your art, you grant a company the right to use your artwork for its purposes.
This includes using your art on products, advertising, or buildings. The company will pay you a royalty fee in exchange for these rights.
The fee amount will depend on the license type and the specific project. Licensing your artwork is an excellent way to generate income without selling your originals.
It is also a great way to get your work seen by a wider audience. If you want to license your artwork, you should keep a few things in mind.
First, make sure that you retain the copyright to your work. This will ensure that you continue to own your artwork and can license it to multiple companies.
Second, be clear about the terms of the agreement. Make sure you understand how the company plans to use your artwork and for how long.
Third, set a reasonable fee. Be sure to consider the value of your work and the company's budget when setting your price.
Make Money Teaching Art on YouTube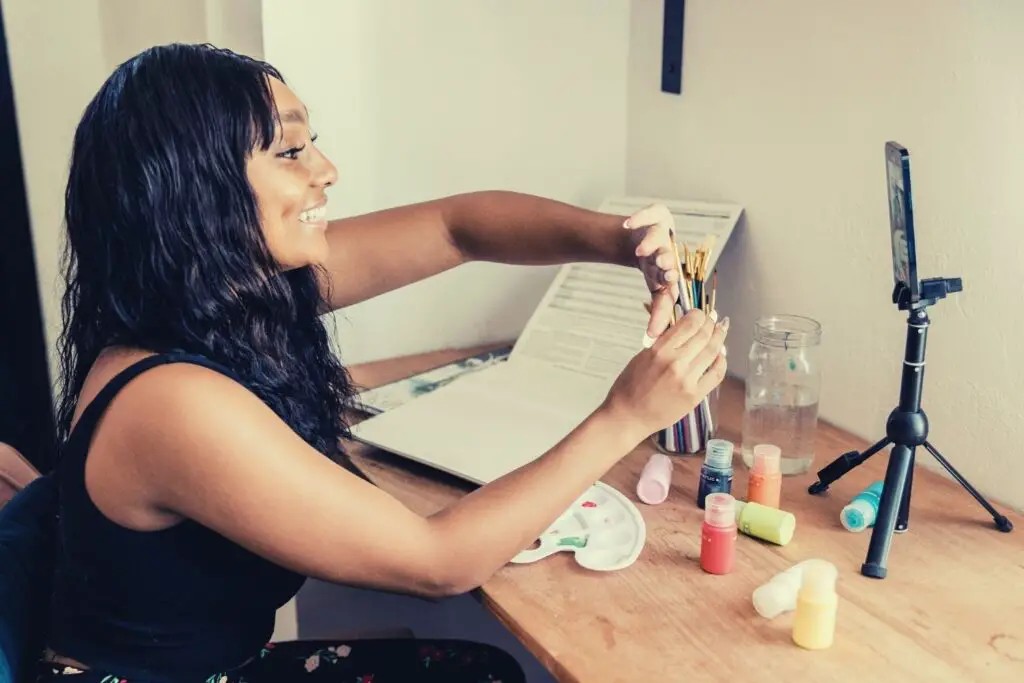 One of the most popular to teach art is through YouTube. You can build up a following of engaged viewers interested in learning more about your craft by creating videos that teach viewers how to create a particular type of art.
In addition to posting videos, you can also sell products through your YouTube channels, such as e-books, tutorials, and other resources.
By providing helpful content and engaging with your audience, you can turn your passion for art into a profitable business.
If you want to make money teaching art, consider starting a YouTube channel today.
This is a great way to reach a wide audience and earn income from your artwork.
Become Social Media Influencer and Sell Your Art
Social media is the easiest way to become an influencer, connect with potential customers, and sell your artwork.
Many artists find that setting up a shop on sites like Etsy or Twitter is an easy way to start selling their work.
And since social media is free to use, it's a great way to reach a broad audience without spending any money on advertising.
You should keep a few things when selling your artwork on social media.
First, make sure your photos are high quality and accurately represent your work.
Second, clearly state the price of each piece and include shipping costs in your listings.
Third, be responsive to questions and messages from potential customers.
Follow these tips and you can sell your artwork successfully on social media and reach a large audience of potential buyers.
Many artists find that selling their work online is a great way to reach a large audience and generate income.
Sell Your Own Art Courses
You can make a healthy profit by selling your own art courses while sharing your talent with others. However, there are a few things to keep in mind when selling courses.
First, it's essential to create high-quality content that people will be willing to pay for.
Your courses should be well-organized and informative, and they should offer value that exceeds the price tag.
Secondly, it's necessary to market your courses effectively.
Use social media, word-of-mouth, and other marketing channels to reach your target audience.
And finally, don't forget to set a fair price for your courses.
You can sell your art course on your blog or other platforms like skill-share, Udemy, or teachable.
You create the course only once, but it can be sold infinite times, so be sure to price it accordingly.
Sell Your Artwork as NFT's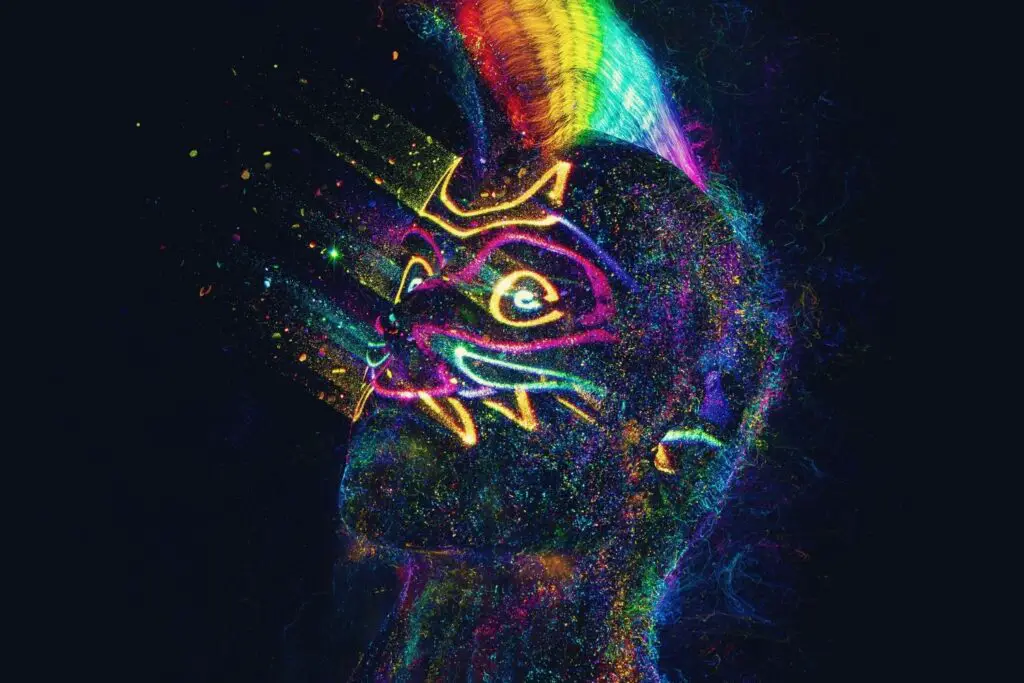 Non-fungible tokens, or NFTs, have been increasing in popularity as a way for artists to sell their work.
Unlike traditional digital assets, NFTs are unique and cannot be replicated.
NFTs are bought and sold like physical artworks, with the added benefit of being stored and traded electronically.
Thanks to the blockchain, NFTs also have built-in provenance, ensuring that the artist receives credit and royalties every time the work is sold.
For these reasons, selling your artwork as an NFT can be a great way to make money.
If you're interested in selling your artwork as an NFT, keep a few things in mind.
First, you need to find a platform that supports the sale of NFTs.
Second, you'll need to create high-quality images of your work.
And finally, you'll need to price your work accordingly.
Conclusion:
If you want to know how to make a living as an artist, there you have it, an exhaustive (but by no means exhaustive) list of ways to make money as an artist.
If one or more of these methods appeal to you, start putting a plan together and making some moves!
With a bit of hard work and hustle, you could be well on your way to earning a living from your artwork.
Remember, this is just the beginning; new opportunities will undoubtedly arise as the art world continues to evolve.
Stay tuned and stay creative – the sky's the limit for you!