I never knew there are different ways to hold a pencil when drawing, and I used to hold it the same way as to how I hold it when I write. 
The difference between holding a pencil when drawing and writing are huge. The sooner you realize and change it will help you to improve your drawing significantly.
When writing, the distance of the impression to be covered on the paper is small, so you will hold the pencil near the tip, so you have absolute control. 
When drawing, the graphite impression needs to cover a wider area on the paper and your hand needs to move freely.
So how should I hold a pencil when drawing?
How to hold a pencil when drawing depends on what you want to draw.  Again, drawing is a very wide terminology, and it covers many things like pencil strokes, pencil shades, creating values, depth, etc. and it all depends on what you want to draw.  The following are the many ways to hold your pencil and the main reason we hold it that way is:
Basic Tripod Grip – Used when you want to do short strokes with precision
Extended Tripod Grip – Used when you do longer stroke and free and controlled line
Overhand Grip – Used for Shading and every stroke will be broad and less precision
Underhand Grip – This method has loose strokes and mostly used for creating pencil textures
We shall understand in detail these methods with reasons.  Another important thing while holding the pencil is also the movement of your finger, wrist, and hand. 
These movements of your body parts in addition to the way you hold your pencil will improve the quality of your drawing.
Precision, area what you want to cover, and the type of stroke decide how you need to hold your pencil. 
Using different methods give you options, variety for your drawing, will also make you efficient in the process, and save time too.
A word of caution, you should never change the way how you hold the pencil just by reading this post.
I want you to feel what I am saying, test, and practice it, and if you consciously realize that it makes sense, and more than that if you are feeling comfortable, only then you should change. 
What can happen is if you change for the sake of changing, it will build huge stress for you, and the result will be losing interest in drawing.  I do not want that to happen, so if you are comfortable only then you should change.
Basic Tripod Grip: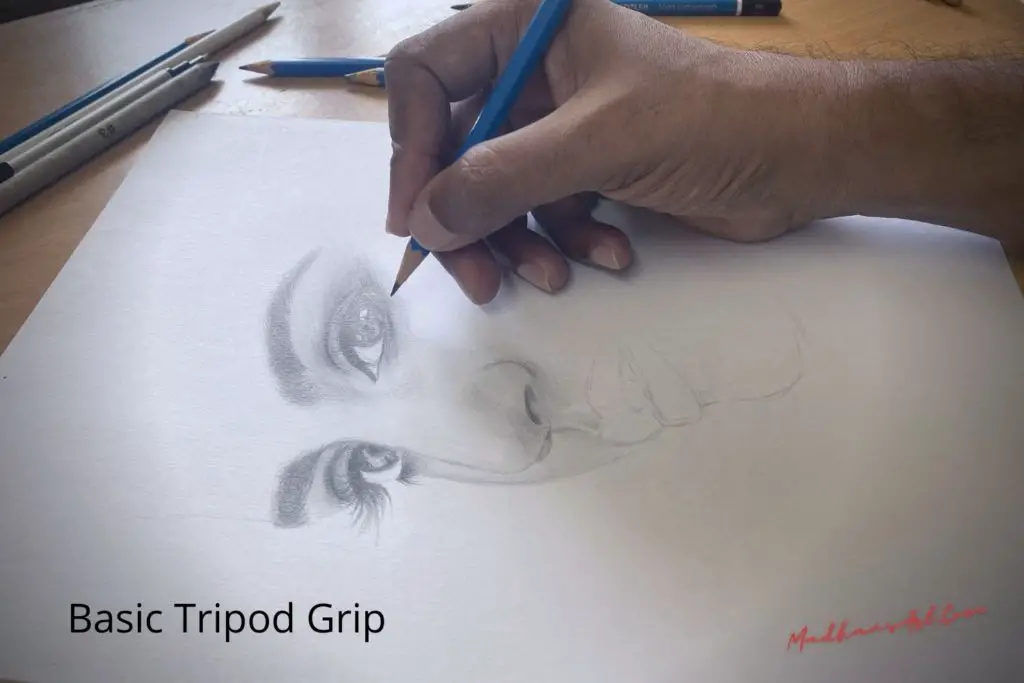 This is the general method followed by most of us when writing or drawing and hence it is also called the writing method.
Under this method, the thumb and the index finger hold the pencil and the pencil rests on the middle finger and the wrists move to create an impression.
As three fingers are used, it is called the Tripod grip method. 
One will hold the pencil a bit tight when using this method.  
You rest your hand on the surface of the paper, and this restricts the movement of a pencil to the movement of the wrist thereby limiting the length of the strokes.
Why do you use Basic Tripod Grip method?
This method is used when doing the precision drawing, and when you want to have fine lines or strokes.
The pencil point needs to be sharp, and the tip of the pencil should be less than 2 inches below your hand.  The pencil is at an angle between 50 degrees to 90 degrees. 
The pencil may be pressed on the paper, hard or soft depending on the quality of mark-making which you require.  
An artist uses this method for drawing or when doing some detailed drawing like drawing hair or thin lines. 
This method can be also done when doing doodle art as they have detailed and multiple strokes.  This method is used when drawing for a sketchbook or for small artwork. 
This is a basic and important type of method most of us use, but I would recommend mastering the wrist movement which can improve your artwork.  
Extended Tripod Grip: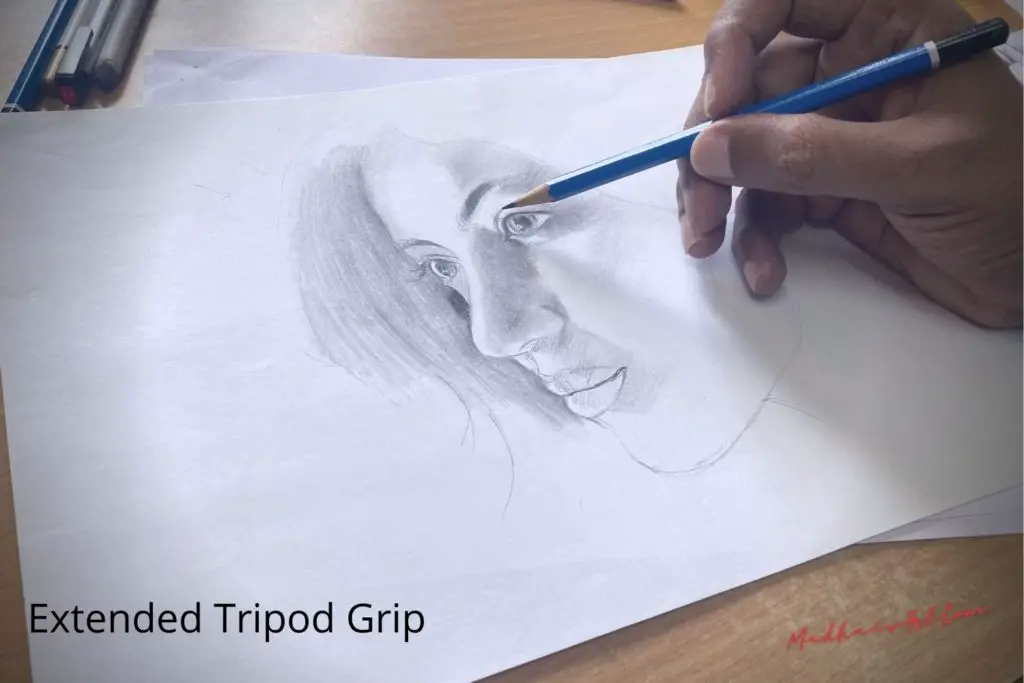 This method is used by Professional Artists who freely draw their sketches on paper. 
This is like the basic tripod grip method only difference is the hand will be between two inches to four inches away from the tip of the pencil.
The angle of the pencil will be between 30 degrees to 50 degrees angle from the surface of your artwork.
The pencil is held by the thumb and the index finger and the pencil rests on the middle finger. In this method, the wrist may or may not rest on the paper and can be moved freely. 
As this method is like the basic tripod grip method, you may adopt this method without much resistance.
Why do you use extended tripod grip method?
Since the tip of the pencil is far from the finger you can easily move your wrist which will help you to draw long lines or smooth curves.
Using this method avoid your hand from smudging the paper. While using this method you should draw light strokes and should use a slow layered approach.
Overhand Grip: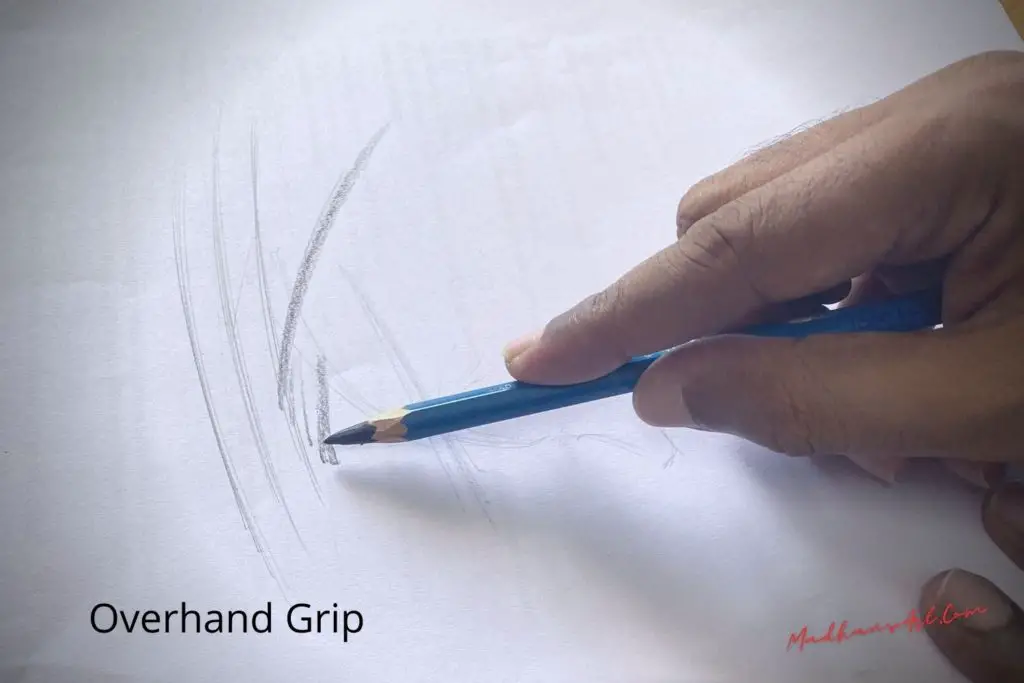 As the name denotes, under this method you will be holding your hand over your pencil, and this method is quite popular amongst Artists.
You shall be using your thumb, other fingers for holding the pencil, and will be using your whole wrist to move the pencil.
You can use both the tip as well as the side of the pencil under this method, when using the side of the pencil it will be able to cover a wide area. 
When you are using the side of the pencil it is for shading or drawing lines on a bigger surface. 
In other words, you can get both thick, and thin lines by using this method. 
But my suggestion is when drawing thick or thin lines do not put too much pressure on the pencil, use it lightly, and try to draw multiple layers if you want to darken a stroke or an area.
The overhand grip method gives so much freedom when drawing and it is mostly referred to as the proper way of holding a pencil when drawing.
If you have not heard about the overhand grip method or if you are trying out this only now, then it is worth trying.
An example where overhand grip is used is gesture drawing, long strokes, and free curves.  These drawings need to be done very freely, and the overhand grip method is best for it.
Underhand Grip: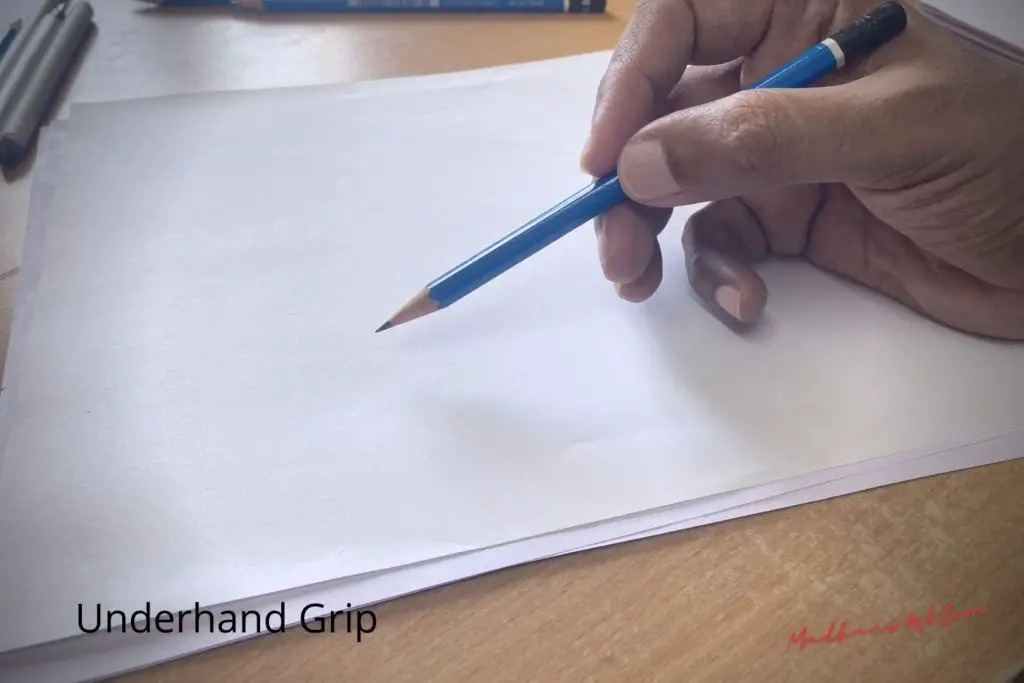 By following this method, you can draw with the whole hand and not with your finger or wrist. 
This gives you total freedom in moving your hand on the paper usually on a bigger size paper. You will be holding the pencil on the top with your thumb and below with your index finger supported by the remaining three fingers. 
Using this method, you can draw gesture drawing or drawings which are for casual or rough purposes.
If you are new to this type of pencil holding method it will be a bit difficult, but with practice, it will make you comfortable, and am sure you will like it.
An artist keeps his pencil less than 20 degrees when using this method. The lead should be slightly longer and when kept slanting will give good shade. 
There is not much difference between the overhand grip method and the underhand grip method. 
You can draw straight long lines, smooth curves and with practice, you can even draw a proper circle or any such thing.
These are not the only methods to hold your pencil but broadly this is what most of the artist use. 
You should pick up a reference picture and start practicing different methods. See how comfortable you are.
Initially, you may find it a bit weird, but with practice, I think you should be fine.  Even after practice, if you are not comfortable with any method or changing the way how you draw, do not force yourself.  
Conclusion
Once you get a grip (pun intended) of all the above methods, you should use the methods appropriately. 
To bit elaborate, if you are doing some fine work like drawing eyelashes or eyebrows then you should use a tripod grip method, and if you are doing some gesture drawing, then you should use the either overhand or underhand method. 
These methods also if used appropriately, will optimize the drawing process, and save time.  
Which method are you comfortable with, please leave your comments below.
By mixing different methods, you can create different varieties of drawings, and you can explore the limitless wonders of the art world.