Arts and Crafts are used synonymously by many people. But there are differences between arts and crafts, and it will be beneficial for you to understand them to use them appropriately.
A critical difference between arts and crafts is art involves more creative work, while craft gets done using more handwork and less creativity.
For our purpose, we shall stick to the visual form of art.
Without further explanation, let us get straight into the table of differences.
Difference between Arts and Crafts (Table)
Difference
Arts
Crafts
Definition
Art is a creative expression of talent and skill, usually visual, mainly for beauty and emotion.
Craft is generally considered a skill in visual form done using a hand.
Creator
An artist creates art and is a creative and emotional person.
A craftsman creates crafts, and they are more of a mechanical person.
Competence
Artists generally have talent (natural aptitude) and acquire additional artistic skills as they gain experience.
Artisans learn and gain skills, and their skill levels get sharpened over time. 
Purpose
The purpose of art is an expression of emotion and primarily for aesthetics.
The purpose of craft is more towards usage or decorations.
Value
Art involves expressions of emotion through lines, colors, textures, figures, depth, objects, curves, edges, and anything which touches human emotions.
Crafts involve presenting skills in physical form depending on the type of craft, like knitting, pottery, weaving, etc.
Hardship
Art is complex as it is unique, requires creativity, and is a more amorphous form of work and the hardship level is high and unmeasurable.
Craft is easy compared to art and requires a skill level acquired by proper training. It will involve a structured form of work and is easily measurable.
Uniqueness
Every artwork is unique, and we cannot recreate it by another artist. There are instances of fake painting, but they are exceptions and are not the same.
Crafts lack uniqueness, and you can generally find similar pieces of work.
Time spent
An artwork is not timebound; it is like a journey where the artist travels without any destination until he feels he has accomplished something.
He continues with his work till he is satisfied.
Crafts work though some are intricate, is primarily timebound. The craftsman knows what he wants and how much time he will spend on the job.
Commercial Intent
Art is more for personal satisfaction, and it can involve commercial intention in many cases, but still, the artist seeks personal pride when he completes his work.
Craft has commercial intention, but the craftsman may not have personal satisfaction to the level of an Artist. He will quickly complete the work and move to the next one.
Example
Painting, Sculpture, Sketching, Oil painting, watercolor painting
Pottery, Glasswork, Jewelry, Weaving, embroidery, knitting
What are the Similarities between Arts and Crafts?
We have taken for granted that the terms arts and crafts are the same in many ways; hence, when we refer to it, we generally say it is arts and crafts.
Just like trying to understand the differences between both, let us also understand the common denominators and why we use them synonymously.
Both Arts and Crafts are handwork and require patience.
Both Arts and Crafts require some level of creativity and some level of skill. The proportion of talent vs. creativity will differ between Arts and Crafts.
Both attract ordinary people and seek appreciation from all.
We can take art and crafts as hobbies.
Art and craft both can have commercial intentions.
What is Art?
Art is a form of communication of expression by an artist in a visual or non-visual way. Art also embeds many things like creativity, imagination, presentation, beauty, emotion, etc.
We express art in various forms like drawing, painting, music, dance, etc. Art is an inclusive concept and does not have any limits.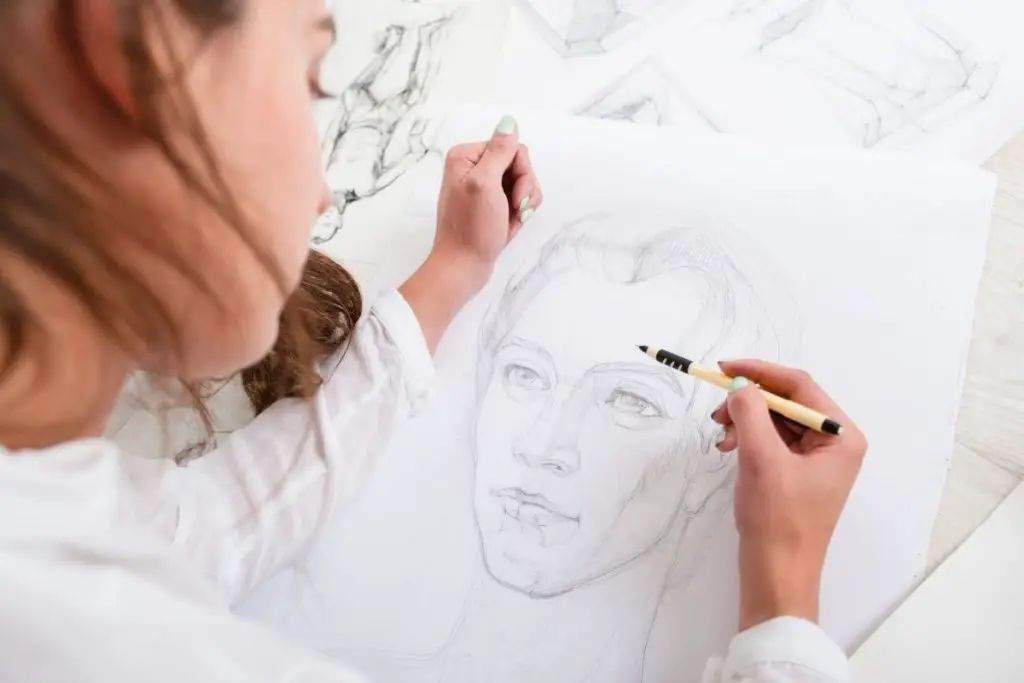 In his art planning stage, he thinks, visualizes, and plans the color, placement of objects, distance, emotions, and other elements of art.
The visual art form is expensive both in terms of time and money. Every artist is unique, and another cannot replicate the original work.
An artist takes his own time to complete a good artwork.
A person can become an artist through talent or by pursuing art education.
The qualities required for an Artist are as follows:
Creative
Focused
Meticulous
Passion
Patience
Perfect
Sensitive
Talented
What are the different types of art?
Arts can be categorized based on practice, creation, and expression. Arts are broadly categorized as Visual Art, Performing Art, and Literary Art.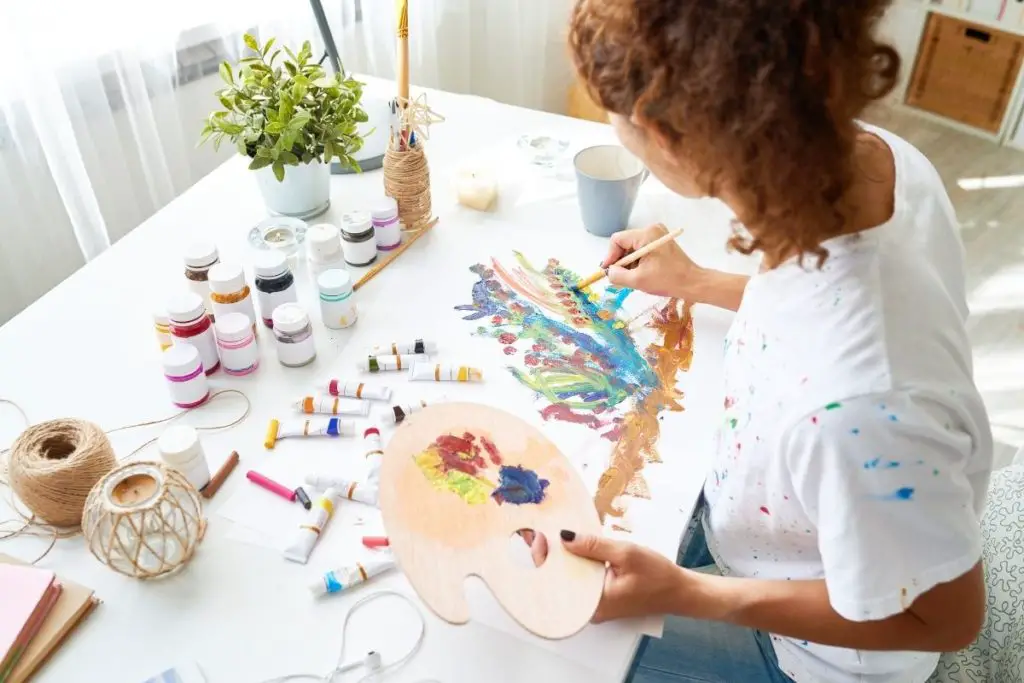 Visual Art

Drawing
Painting
Sculpture
Photography

Performing Art

Theatre
Instruments
Dance
Music

Literary Art
Art is a broad sample of it is listed above.
What is Craft?
A craft is a type of skilled work in a physical form usually done using a hand.
Similar to art, craft requires skill level and patience.
There are many forms of craft: Paper Crafts, embroidery, stitching, weaving, jewelry, beadwork, crochet, knitting, etc.
Unlike art, the craft is relatively less time-consuming and timebound.
It is more commercial, and though there is craftsman involvement, it does not have personal emotion attached to it.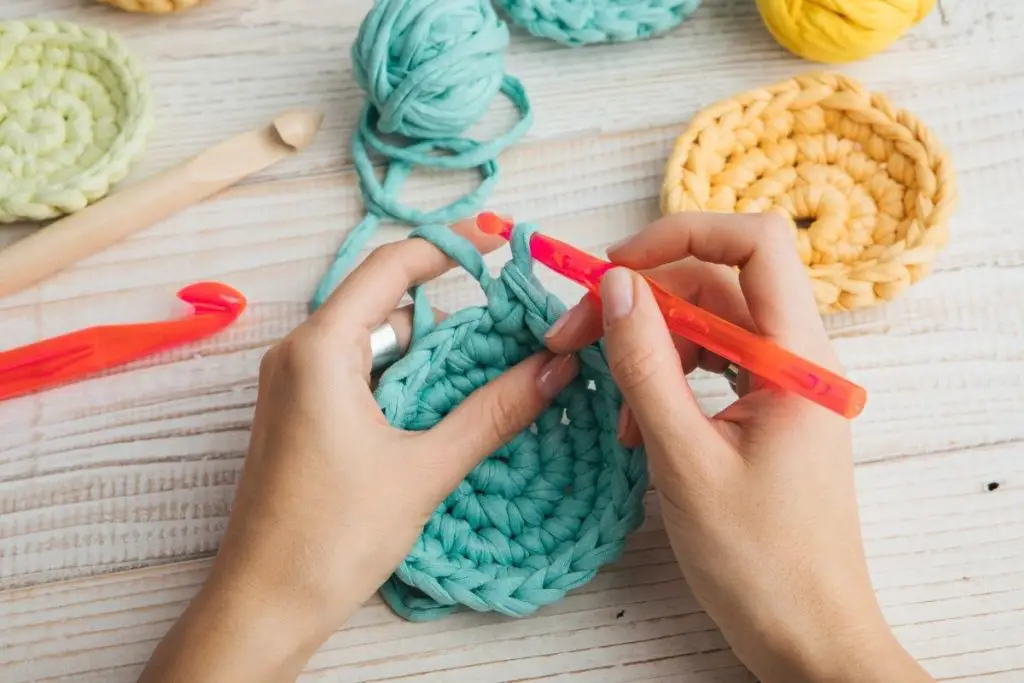 A craftsman knows mostly what is expected of him or what he wants. So he plans his work in a structured and timebound manner.
A person can become a craftsman by gaining knowledge from someone or through formal education.
The qualities required for an artisan are as follows:-
Perfection
Dedication
Planning
Execution
Focus
Repetition without boredom
What are the different types of Crafts?
Crafts can be categorized based on the product which we craft. Crafts are categorized as Ceramic, Textile, Needlework, papercraft, and Woodwork.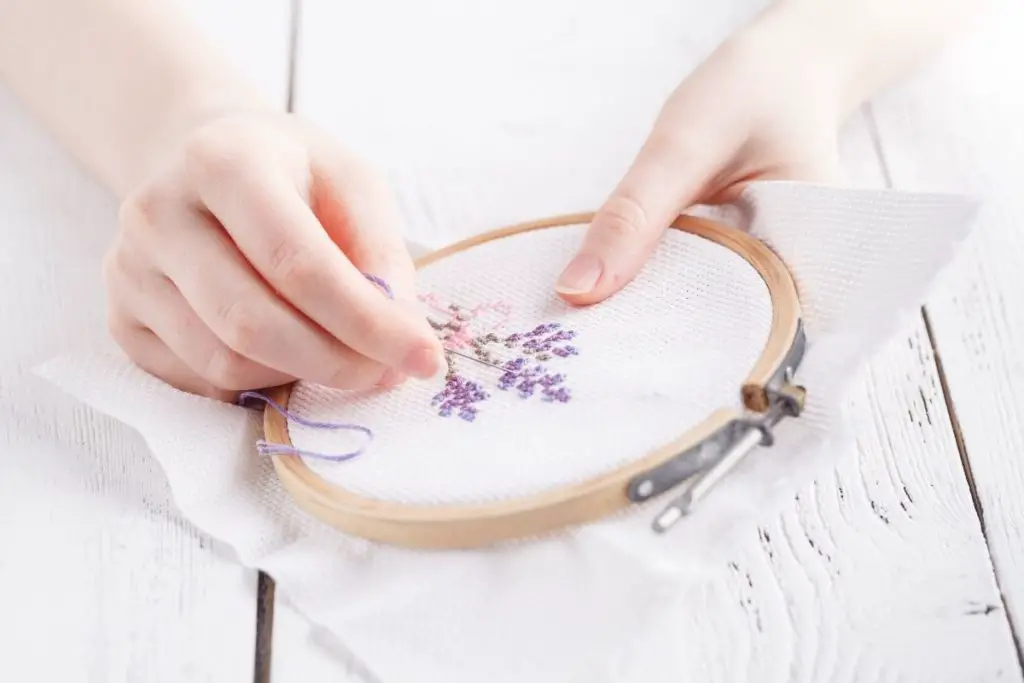 Ceramic Craft

Mosaic
Pottery
Glass art
Cameo glass

Textile Craft

Spinning
Stitching
Weaving
Knotting

Needlework

Crochet
Stitching
Weaving
Knotting

Paper crafts

Calligraphy
Origami
Scrapbooking
Quilling
Whether art or craft, the person who creates it should get involved and commit to making it. The craftsman should focus on completing the work and money and seek perfection.
Though there are starring differences, artists and artisans, make this world a beautiful place for us.
Reference: Wikipedia – The Arts
Related Post
Please find below a set of Related Posts which might be of your interest on the Topic of Art Questions:
Frequently Asked Questions
How is Arts and Crafts the Same?

Arts and crafts are both creative activities that involve making things by hand. However, arts focus more on the creative process, while crafts focus more on the finished product. Both arts and crafts can be done for personal enjoyment or as a way to make gifts for others. Additionally, both arts and crafts can be sold commercially.

Is Pottery a Craft or Art?

Pottery can be considered both a craft and an art. Pottery is a craft because it involves making things by hand, and it can be done for personal enjoyment or as a way to make gifts for others. Additionally, pottery can be sold commercially. However, pottery can also be considered an art because it is a creative activity involving making both functional and beautiful objects.

What traditionally has distinguished Crafts from other arts?

Crafts have traditionally been distinguished from other arts by their focus on functionality. Crafts are typically made by hand and are often used for practical purposes such as designing, cleaning, or construction. Additionally, crafts may be sold commercially, while other arts are not usually created to be sold. However, this distinction is not always clear, and there is often an overlap between crafts and other arts. For example, pottery can be considered both a craft and an art.

What are the Principles of Arts and Crafts?

The principles of arts and crafts are creativity, skill, and imagination. These principles are evident in both traditional and contemporary arts and crafts. Additionally, the principles of arts and crafts can be applied to any creative activity, not just those traditionally considered to be arts and crafts.

Is art considered a Craft?

Art can be considered a craft if it is created by hand and has a functional purpose. For example, pottery can be regarded as both a craft and an art. Additionally, the principles of arts and crafts can be applied to any creative activity, not just those traditionally considered to be arts and crafts.